Hey there, Bright Shining Star!
The new moon in Leo is back again! We had a new moon in Leo in July and the 'Lion's Star Gate" incident…and now an eclipse is on the horizon. I know it's weird energy. No one really talks about it. How eclipses can mess with your rhythm, your menstrual cycle and moods. Not to mention the Mercury Retrograde..messing with everything else.
Try not to get too tripped up with the mercury retro stuff. I paid off a credit card bill via snail mail and they never received the check! Doh! My intuition told me to call and check on it and make another minimum payment, just in case. So glad I did. I'll have to call back (again) to see if it showed up, and then request a refund of the other payment. See how fun this is???
Try to be willing to  "RE-consider":
Re-Doing something. yeah really, I know, who has time for that?? Maybe just tweak it and make it better, Darlin'.
Re-Fresh your garden, your curtains, your makeup or hair.
Re-Decorate or just move some stuff around for better feng-shui.
Re-Organize your priorities, your closet, your pocketbook..but maybe stay away from organizing your work/computer/mobile files.. just in case
REnew your vows: to yourself, your partner, your business, your dreams…
Re-Vitalize – your health, your workout routine, and your self care. You deserve it, Goddess!
We can bravely forge ahead, again.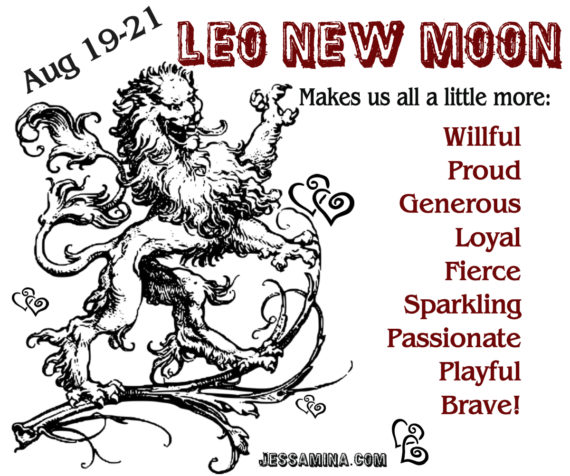 Leo energy is regal and dignified, yet somehow delightfully childlike. There's even more sexual energy to share, or use towards your creativity. It's fun to use your 'fire' this way, using your mojo in a focused clear way and boldly taking that first (or next) step. This 'second chance' Fiery Leo New Moon is your window of opportunity to speak your truth…especially if you didn't do it the last time around. This is your chance RE-do and win. The eclipse is intensifying everything, so keep your thoughts clear and bright around it all.
Go ahead, be brazen and use this  New Moon Intention Creator like a Queen declaring the new law.
But if you tried to initiate change, been disappointed and disillusioned, or had your heart break as you watched everything fall through…been too nervous to even try, or taken some steps and then kinda dropped the ball, you might need a trusted confidante to straighten your crown.  Let's talk privately, sweetheart..I'll remind you of your majestic power, and together we'll make it happen.
XO Jessamina
Try it!