Movement Therapy for Stress Reduction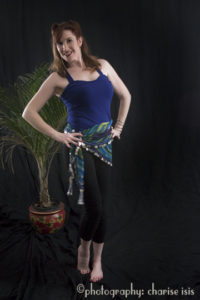 You are a timeless woman. Enjoy and embody the ancient art of conscious dance becomes a cathartic experience.
Where gorgeous self-expression, fun fitness and self discovery meet.

A combination of standing Pilates, Yoga and Bellydance becomes an empowering experience for women of all ages and fitness levels. It's fun and functional and helps you feel beautiful. The movements are non-impact with a focus on posture for a strong, aligned foundation to build the movements on, support great posture and strength.
When you assume these ancient postures and engage in these specialized movements
it's effective strength training, that looks great on every woman.  
You are setting the perfect foundation for walking and moving your body with grace and power everyday.  
Which is just gorgeous, of course, and makes you look more beautiful and confident.  
You're a magnetic force of nature.
The Restorative Sessions  Series are designed to:
Help counter depression and lethargy
Become a Stronger, More toned ,more relaxed and flexible luminous woman
Shake off the stress of everyday life

Get a workout that'll make you feel good all week.

But This is much more than just a Workout When you give yourself the gift of rest, when you allow the energy of a meditation healing session into your busy life, you nourish and balance your energy system , improve body awareness ,and improve your health.  Releasing the past, Creating time for contemplation, meditation and expansion generates new ideas and then makes space for more blessings of every kind to come in to your life. We'll make time for all of that.
LOCATION: 4500, Marketplace Way, Enola, PA 17025 (855) 505-2583 call to register
 The following classes are also available and FREE to Capital Blue Members and $5 for Non-Members.
Saturday, February 10th at 10:30-11:30 am 
Saturday, February 17th at 10:30-11:30 am
Saturday, February 24th 10:30-11:30 am
Low impact bellydance that's beautiful and easy to do.
Add your resistance for a powerful workout and feel great.
Followed by a relaxing meditation to reset your energy system for love and peace.
(colorful coined scarves provided, no dance experience necessary.)
FREE for Capital Blue Members $5 for Non-members